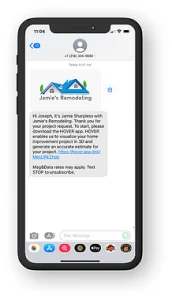 Thank you for contacting our team! We've received your notification and we are assigning a rep in your area to respond to your needs.  In less than 20 minutes, you will receive an email and text message with the next steps on how to get started.
See below for more information on your next steps!
See Your Next Steps
Step 1

Fill out the form located on this page to receive your email and text message invite to download HOVER and capture photos of your property.
Step 2

Click the link in the invite and follow the instructions to download the HOVER app and complete your photo capture.
Step 3

Explore colors and material designs using the HOVER 3D model of your own home.